2008 Forecast Verification Summary
Weather during Winter 2007 / 2008 and Summer 2008 have had largely unexpected Energy Sector implications to those not advised of Dave Melita's accurate long range forecasts.
Winter 2007/08 Temperature and Precipitation Forecasts Issued October 2007
Winter 2007 / 08 Mean Temperature and Precipitation Verification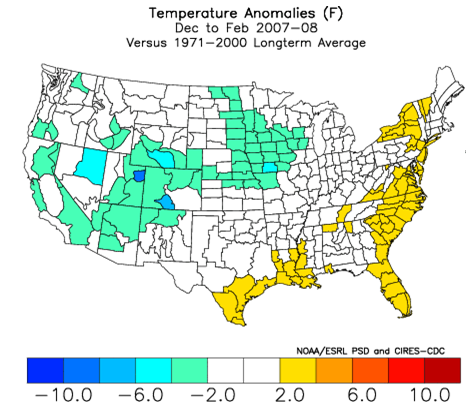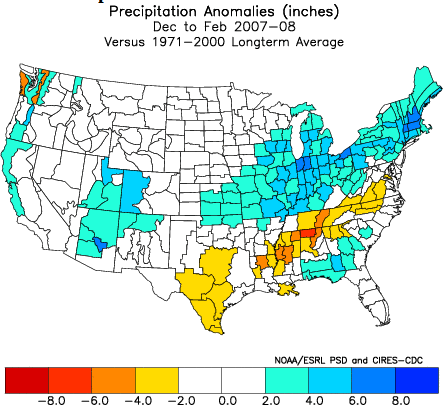 At the end of winter of 2007/08 the largely unexpected low natural gas storage condition made the upcoming summer forecast all the more critical. The fundamental basis of Dave's forecast issued May 2008 was that summer 2008 would average much more moderate than the excessive heat of the preceding summer 2007 in the major energy consuming areas of the Midwest and East.
Summer 2008 Temperature and Precipitation Forecasts Issued May 2008
Summer 2008 Mean Temperature and Precipitation Verification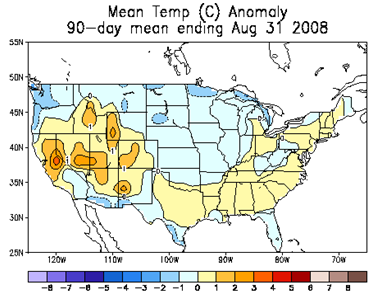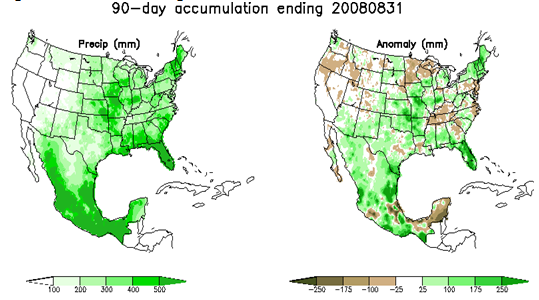 Among the listed primary forecast components issued in May was the following: "June is forecast to represent the greatest positive departures from average temperatures in the northern mid Atlantic and Northeast of the upcoming summer."
Dave's June Forecast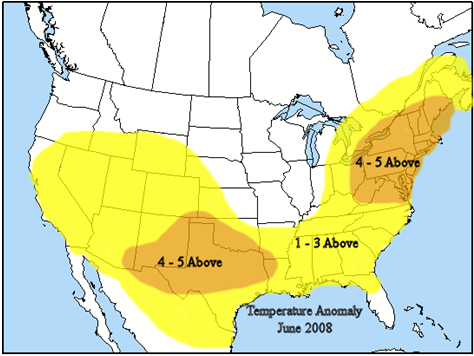 Observed June 2008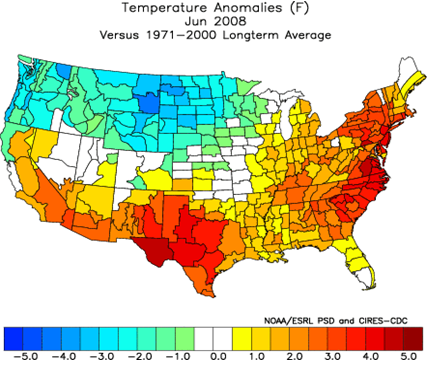 March 20 - Long Range Summary
Winter-like arctic air in place across the entire Eastern half of the U.S. will linger longest over the Southeast into early Tuesday at near 20° below average intensity where NWS overnight Freeze Warnings remain in place. Meanwhile the central U.S. is already warming above average and this warmer airmass will reach  the Eastern U.S. midweek in milder southerly flow ahead of the next series of closely spaced Pacific storms lined up to move onto the West Coast at 36-48 hour intervals. The lead Western storm forecast to eject east of the Rockies midweek and the East Saturday will not tap into cold air nearly as intense as 20°-30° below average temperatures observed last week. However, very cold air by spring standards remains available over snow covered Canada to be tapped by the parade of coast to coast tracking storms to frequently cool temperatures across most of the Eastern half of the U.S. to at least moderately (7°-10°) below average levels starting during the latter half of this week. Several additional rounds of late season snow are also forecast across most of the northeastern quadrant of the U.S. including a potential significant winter storm in the interior Northeast at the end of the 6-10 day period (Mar 28-29). More importantly all extended models prolong this active cold-biased U.S. storm pattern devoid of sustained above average warmth (or Southeastern ridging), adding confidence to continued delay of full establishment of spring-like temperatures across most of the Eastern U.S. into mid April.
---
If your business or career depends on correctly predicting the weather, you can follow the pack or you can get ahead with MWA's proprietary models and expert forecasts.