2008 Forecast Verification Summary
Weather during Winter 2007 / 2008 and Summer 2008 have had largely unexpected Energy Sector implications to those not advised of Dave Melita's accurate long range forecasts.
Winter 2007/08 Temperature and Precipitation Forecasts Issued October 2007
Winter 2007 / 08 Mean Temperature and Precipitation Verification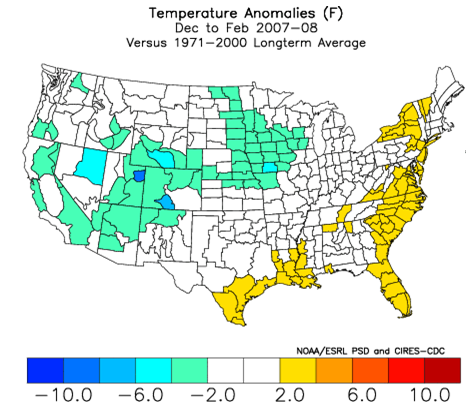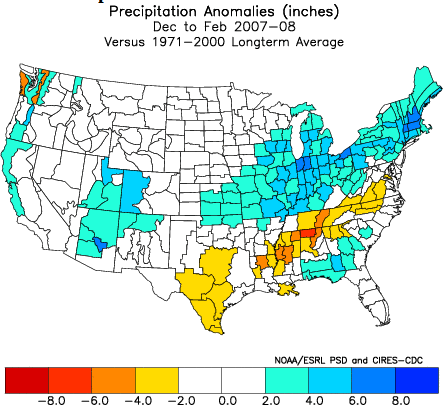 At the end of winter of 2007/08 the largely unexpected low natural gas storage condition made the upcoming summer forecast all the more critical. The fundamental basis of Dave's forecast issued May 2008 was that summer 2008 would average much more moderate than the excessive heat of the preceding summer 2007 in the major energy consuming areas of the Midwest and East.
Summer 2008 Temperature and Precipitation Forecasts Issued May 2008
Summer 2008 Mean Temperature and Precipitation Verification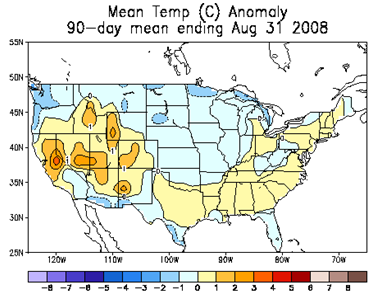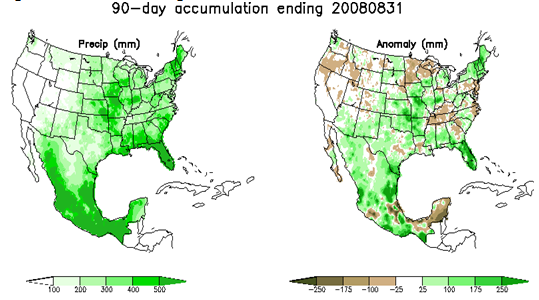 Among the listed primary forecast components issued in May was the following: "June is forecast to represent the greatest positive departures from average temperatures in the northern mid Atlantic and Northeast of the upcoming summer."
Dave's June Forecast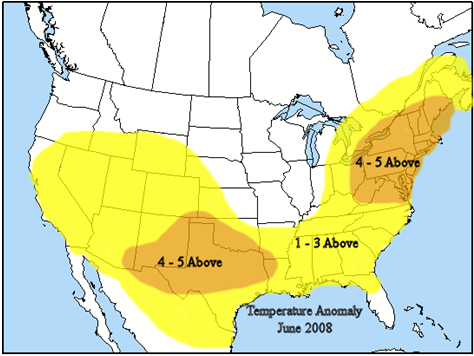 Observed June 2008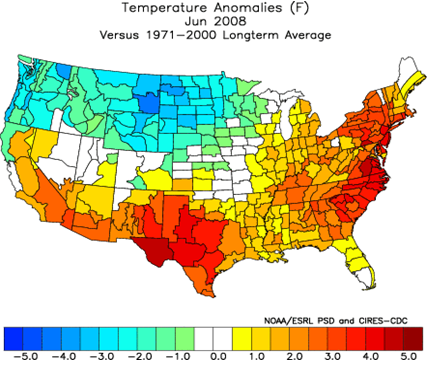 June 27 - Long Range Summary
Canadian air draining into the Eastern half of the country at the start of this week marks onset of noticeably milder conditions ending multiday periods of excessive heat observed during most of June.  This does not preclude briefer surges of significant heat as recent model consensus warms the Great Lakes and Northeast back into the 90s at the end of this workweek (Thursday and Friday respectively), before cool air returns next weekend (Jul 2-3). Meanwhile the hottest temperatures of summer underway along the West Coast (including 100s in portions of the Pacific Northwest) will linger into midweek before also subsiding during the latter half of this week. Models are exhibiting much greater divergence than typical across all forecast periods as successive runs struggle with faster low amplitude flow. When averaged over multiday time scales near seasonal temperatures are forecast across the Eastern half of the U.S. most of this week, before sustained above average heat resumes across the South (upper 90s-low 100s) during the 6-10 day period. Cool Canadian air will be slowest to fully depart the Northeast until after the 11-15 day period, but once it does longer range models maintain above average temperatures across the entire Midwest, South, and East in a near sustained manner during the latter half of July at the climatological peak of summer heat.
---
If your business or career depends on correctly predicting the weather, you can follow the pack or you can get ahead with MWA's proprietary models and expert forecasts.