2008 Forecast Verification Summary
Weather during Winter 2007 / 2008 and Summer 2008 have had largely unexpected Energy Sector implications to those not advised of Dave Melita's accurate long range forecasts.
Winter 2007/08 Temperature and Precipitation Forecasts Issued October 2007
Winter 2007 / 08 Mean Temperature and Precipitation Verification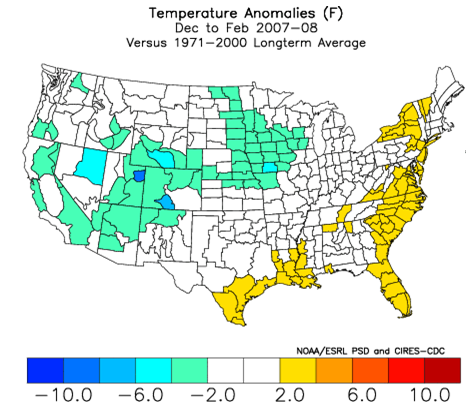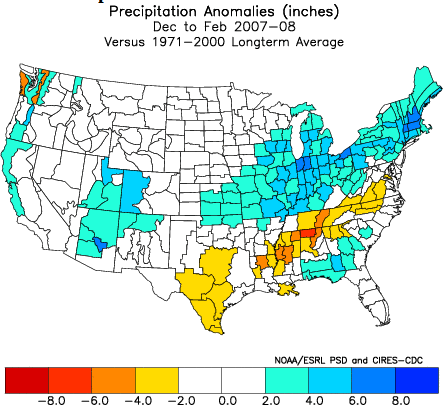 At the end of winter of 2007/08 the largely unexpected low natural gas storage condition made the upcoming summer forecast all the more critical. The fundamental basis of Dave's forecast issued May 2008 was that summer 2008 would average much more moderate than the excessive heat of the preceding summer 2007 in the major energy consuming areas of the Midwest and East.
Summer 2008 Temperature and Precipitation Forecasts Issued May 2008
Summer 2008 Mean Temperature and Precipitation Verification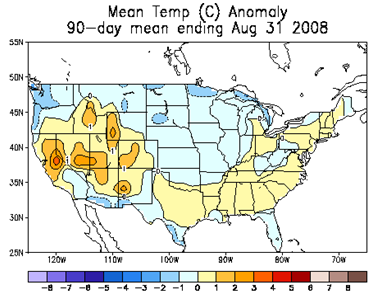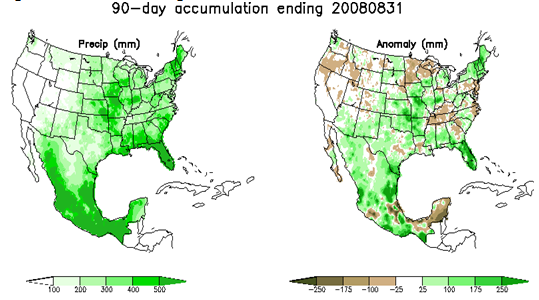 Among the listed primary forecast components issued in May was the following: "June is forecast to represent the greatest positive departures from average temperatures in the northern mid Atlantic and Northeast of the upcoming summer."
Dave's June Forecast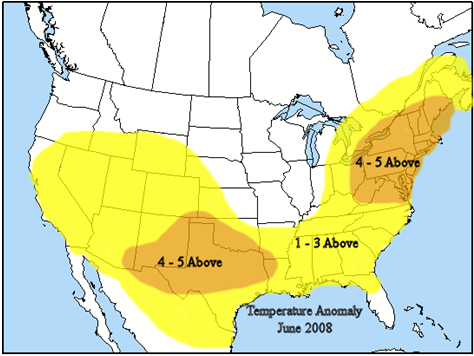 Observed June 2008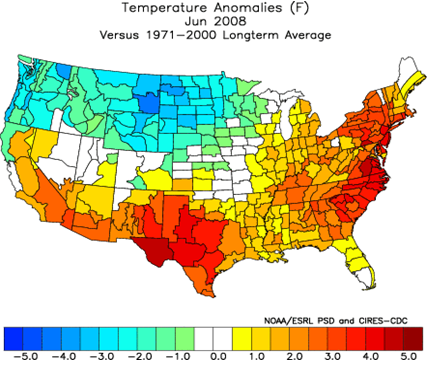 November 29 - Long Range Summary
Above average warmth which predominated the majority of the West and northern Plains throughout November is quickly expanding eastward, with the Northeast last to shift warm. A cold start to the coming week across the Northeast featuring temperatures 5° below average is certain to briefly reverse 5° above average midweek, before cold air returns at the end of the week. All models prolong this modest volatility across the Northeast characterized by near seasonal mean temperatures when averaged over several day time scales through the end of the 1st full week of December. Extended range models eventually flood the Northeast with milder air during the 11-15 day period, but this accompanies large scale pattern change directing notably colder air through west central Canada into the Rockies and Plains. Central U.S. cooling forecast to start late in the 6-10 day period may not mark onset of sustained below average temperatures. However, that is not the case across Canada where progressive cooling sets the stage for significantly colder mid December conditions across the northern Plains and Upper Midwest, which are likely to expand into the East by the final week of the month to persist through early January.
---
If your business or career depends on correctly predicting the weather, you can follow the pack or you can get ahead with MWA's proprietary models and expert forecasts.