2008 Forecast Verification Summary
Weather during Winter 2007 / 2008 and Summer 2008 have had largely unexpected Energy Sector implications to those not advised of Dave Melita's accurate long range forecasts.
Winter 2007/08 Temperature and Precipitation Forecasts Issued October 2007
Winter 2007 / 08 Mean Temperature and Precipitation Verification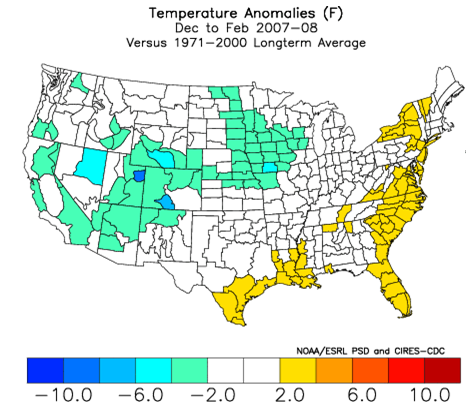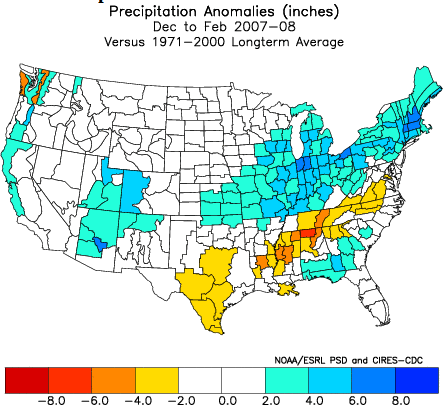 At the end of winter of 2007/08 the largely unexpected low natural gas storage condition made the upcoming summer forecast all the more critical. The fundamental basis of Dave's forecast issued May 2008 was that summer 2008 would average much more moderate than the excessive heat of the preceding summer 2007 in the major energy consuming areas of the Midwest and East.
Summer 2008 Temperature and Precipitation Forecasts Issued May 2008
Summer 2008 Mean Temperature and Precipitation Verification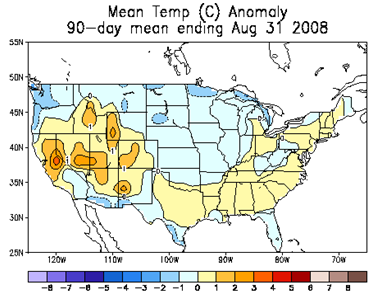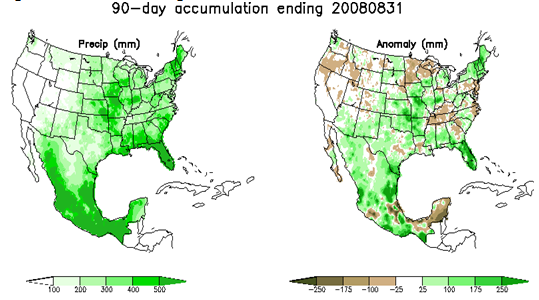 Among the listed primary forecast components issued in May was the following: "June is forecast to represent the greatest positive departures from average temperatures in the northern mid Atlantic and Northeast of the upcoming summer."
Dave's June Forecast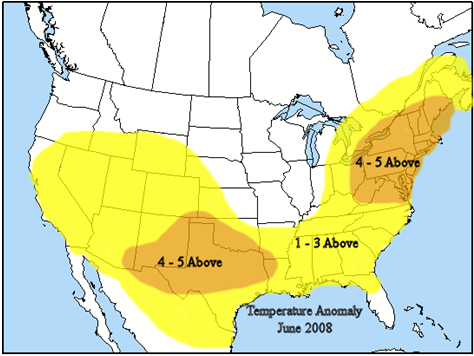 Observed June 2008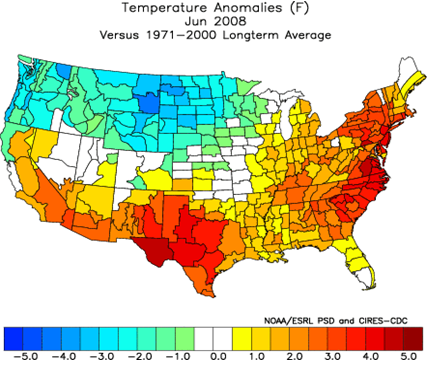 August 13 - Long Range Summary
Record setting triple digit high temperatures observed in the Dakotas this past weekend are part of widespread above average heat across the majority of the northern half of the U.S. and nearly the entire West, which have characterized all of August to date and are forecast to predominate the next 10-days. Models are far less certain in precipitation details (and associated seasonably cool temperatures) generated by weak disturbances slowly moving between the central – southern Plains and the Ohio and Tennessee Valleys. However, rainfall observed in most of Texas has underperformed model predictions, and all latest guidance is faster to re-establish dry conditions and moderate warmth (mid-upper 90s) by midweek. While some precipitation may return to the Deep South next weekend (Aug 18-19) and intermittent Eastern rainfall will linger into the 6-10 day period, by the 11-15 day period more long range models are latching onto establishment of far more sustained dry and warm conditions across the Midwest, South and East in a midsummer-like pattern on track to predominate late August and most of not all of September.
---
If your business or career depends on correctly predicting the weather, you can follow the pack or you can get ahead with MWA's proprietary models and expert forecasts.