2008 Forecast Verification Summary
Weather during Winter 2007 / 2008 and Summer 2008 have had largely unexpected Energy Sector implications to those not advised of Dave Melita's accurate long range forecasts.
Winter 2007/08 Temperature and Precipitation Forecasts Issued October 2007
Winter 2007 / 08 Mean Temperature and Precipitation Verification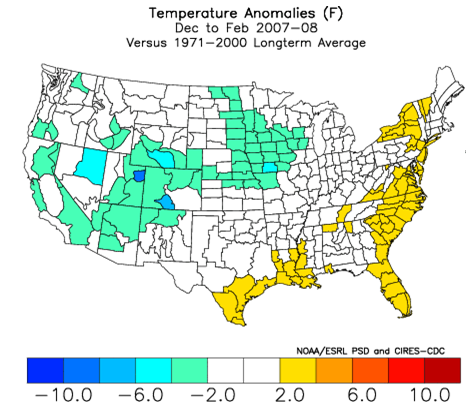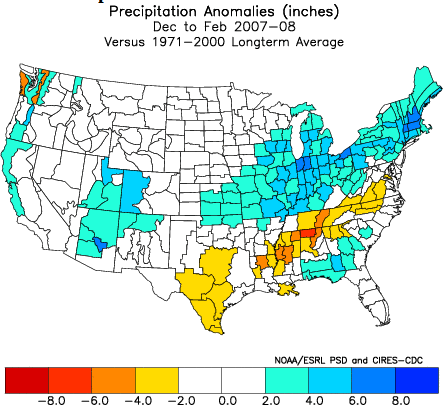 At the end of winter of 2007/08 the largely unexpected low natural gas storage condition made the upcoming summer forecast all the more critical. The fundamental basis of Dave's forecast issued May 2008 was that summer 2008 would average much more moderate than the excessive heat of the preceding summer 2007 in the major energy consuming areas of the Midwest and East.
Summer 2008 Temperature and Precipitation Forecasts Issued May 2008
Summer 2008 Mean Temperature and Precipitation Verification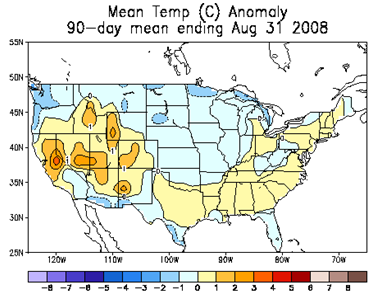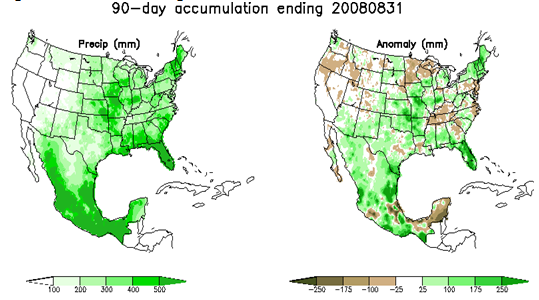 Among the listed primary forecast components issued in May was the following: "June is forecast to represent the greatest positive departures from average temperatures in the northern mid Atlantic and Northeast of the upcoming summer."
Dave's June Forecast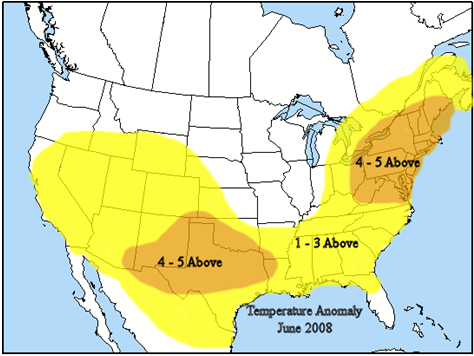 Observed June 2008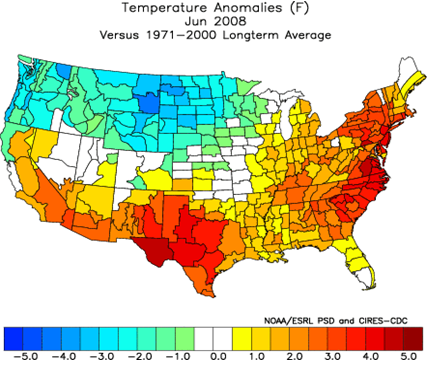 March 18 - Long Range Summary
Seasonably cold temperatures east of the Rockies predominate the week ahead, along with fast moving light-moderate snowstorms whisking between the northern Plains and Northeast. Temperature volatility related to the northern tracking storm sequence focuses coldest air into the Northeast (5°-10° below average) in 2 distinct surges; early week (Monday-Tuesday), and late week (Friday-Saturday) with brief midweek warming in between. Meanwhile in the Southwest another large winter storm (much weaker than last week) is forecast by all models to develop over Arizona by midweek. Model forecasts diverge substantially in eastward track, strength, and speed of this Southwestern storm as well as the next Pacific storm lined up to slam onto the West Coast next weekend (Mar 23-24), greatly impacting 6-10 day temperature forecasts across both the West and East. However, all models indicate this storm as the start of a milder Spring pattern overall. Despite forecast uncertainty associated with generally slow eastward translation of each relatively mild spring storm across the U.S. this pattern change in itself virtually ensures progressively warming Eastern temperatures during the final week of March, and across the West by early April adding confidence to a mild April overall devoid of significant cold anywhere in the U.S.  
---
If your business or career depends on correctly predicting the weather, you can follow the pack or you can get ahead with MWA's proprietary models and expert forecasts.