2008 Forecast Verification Summary
Weather during Winter 2007 / 2008 and Summer 2008 have had largely unexpected Energy Sector implications to those not advised of Dave Melita's accurate long range forecasts.
Winter 2007/08 Temperature and Precipitation Forecasts Issued October 2007
Winter 2007 / 08 Mean Temperature and Precipitation Verification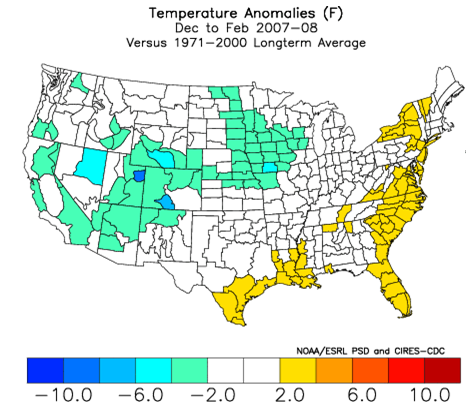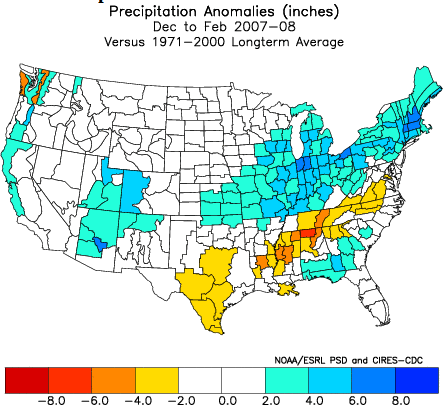 At the end of winter of 2007/08 the largely unexpected low natural gas storage condition made the upcoming summer forecast all the more critical. The fundamental basis of Dave's forecast issued May 2008 was that summer 2008 would average much more moderate than the excessive heat of the preceding summer 2007 in the major energy consuming areas of the Midwest and East.
Summer 2008 Temperature and Precipitation Forecasts Issued May 2008
Summer 2008 Mean Temperature and Precipitation Verification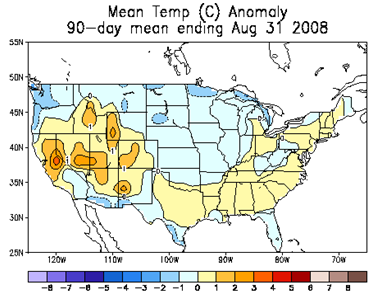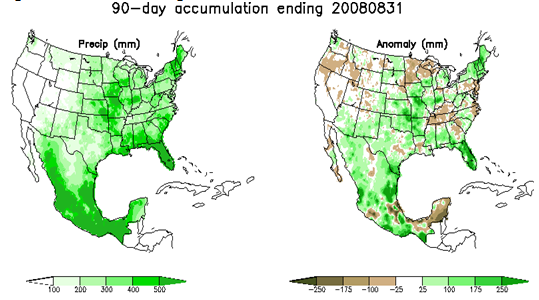 Among the listed primary forecast components issued in May was the following: "June is forecast to represent the greatest positive departures from average temperatures in the northern mid Atlantic and Northeast of the upcoming summer."
Dave's June Forecast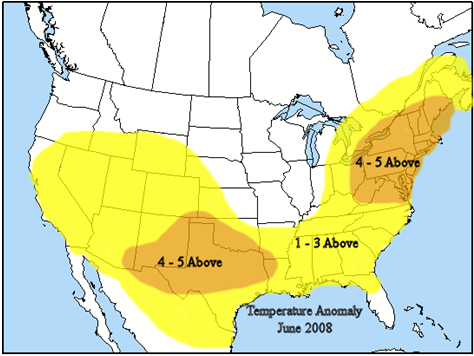 Observed June 2008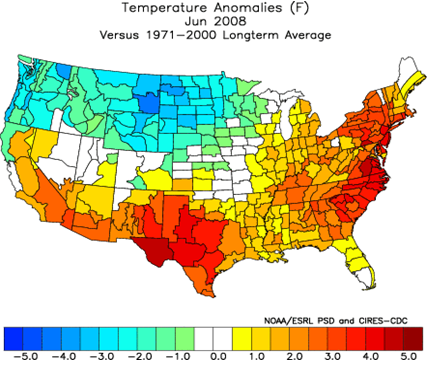 May 20 - Long Range Summary
This week begins with the warmest temperatures of the year in the Northeast (low-md 80s), before a brief surge of the coolest temperatures of the week sweep across the region Tuesday (60s). Meanwhile cold winter-like storms reloading over the West into next week are part of a stalled pattern already focusing strong heat (low-mid 90s) across the Southeastern quadrant of the U.S. All models peak Southeastern heat near record levels (11°-15° above average) late this week (Thursday-Friday) through the 1st half of the of  the 6-10 day period. Forecasts farther north are struggling with how much of this extreme Southeastern heat can periodically spread back into the Great Lakes and Northeast, with latest modeling trending warmer during the next 10-days. In the longer range all models totally breakdown anomalous amplified flow early in the 11-15 day period marking effective end to the current sharp west-east temperature contrast across the U.S. While seasonably cold air appears slowest to erode in the northern Plains during the 11-15 day period, sustained Western warming and moderating Southeastern heat are part of mild seasonably warm summer-like flow on track to predominate the majority of the U.S. through early summer.
---
If your business or career depends on correctly predicting the weather, you can follow the pack or you can get ahead with MWA's proprietary models and expert forecasts.