2008 Forecast Verification Summary
Weather during Winter 2007 / 2008 and Summer 2008 have had largely unexpected Energy Sector implications to those not advised of Dave Melita's accurate long range forecasts.
Winter 2007/08 Temperature and Precipitation Forecasts Issued October 2007
Winter 2007 / 08 Mean Temperature and Precipitation Verification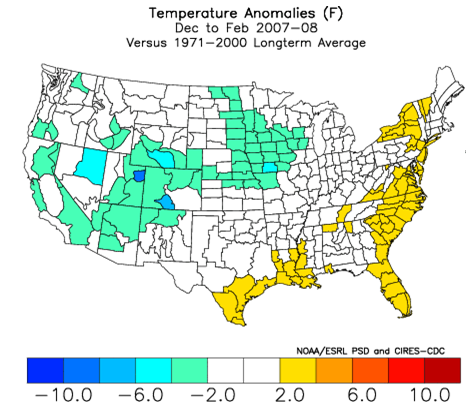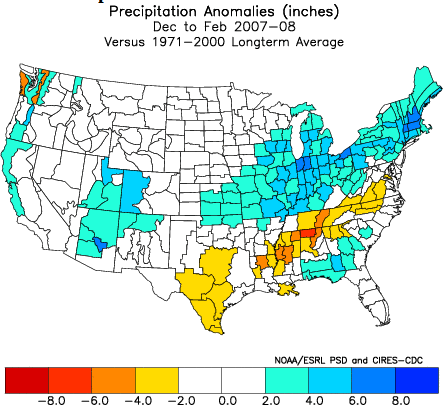 At the end of winter of 2007/08 the largely unexpected low natural gas storage condition made the upcoming summer forecast all the more critical. The fundamental basis of Dave's forecast issued May 2008 was that summer 2008 would average much more moderate than the excessive heat of the preceding summer 2007 in the major energy consuming areas of the Midwest and East.
Summer 2008 Temperature and Precipitation Forecasts Issued May 2008
Summer 2008 Mean Temperature and Precipitation Verification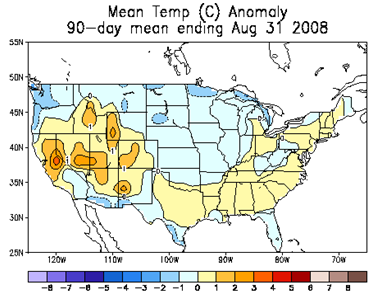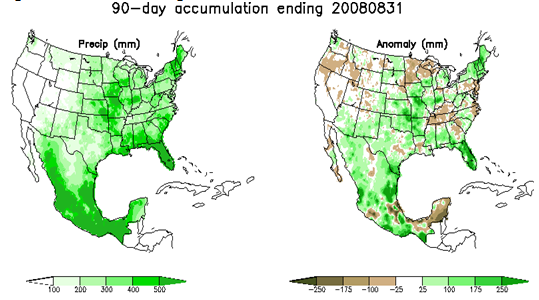 Among the listed primary forecast components issued in May was the following: "June is forecast to represent the greatest positive departures from average temperatures in the northern mid Atlantic and Northeast of the upcoming summer."
Dave's June Forecast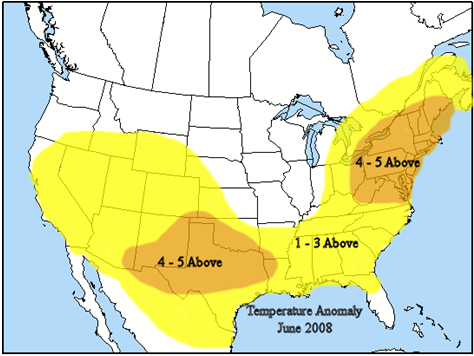 Observed June 2008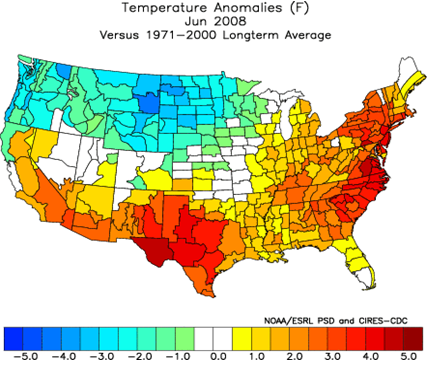 February 19 - Long Range Summary
Record setting temperature contrast builds through midweek across the entire U.S. as late spring-level warmth in the Southeast (70s-low 80s) intensifies and expands northward to the eastern Great lakes and Northeast at 20°-30° above average strength, while frigid arctic air in the Northwest and northern Plains (subzero highs) spreads southward deep into the Southwest to Texas at 15° below average intensity or more. Each extreme temperature anomaly will moderate several degrees during the latter half of this week, but the general west-east contrast between cold and warm late winter conditions will predominate most of next week. However, plummeting Eastern U.S. temperatures during the 11-15 day period are now of highest forecast confidence as ALL models have latched onto marked pattern change effectively ending strong or prolonged above average warmth. Latest model forecasts which spread below average temperatures deep into the southern U.S. from Texas to Florida by the end of the 11-15 day period set the stage for a very cold and wintery March by spring standards across the Midwest and East.
---
If your business or career depends on correctly predicting the weather, you can follow the pack or you can get ahead with MWA's proprietary models and expert forecasts.