2008 Forecast Verification Summary
Weather during Winter 2007 / 2008 and Summer 2008 have had largely unexpected Energy Sector implications to those not advised of Dave Melita's accurate long range forecasts.
Winter 2007/08 Temperature and Precipitation Forecasts Issued October 2007
Winter 2007 / 08 Mean Temperature and Precipitation Verification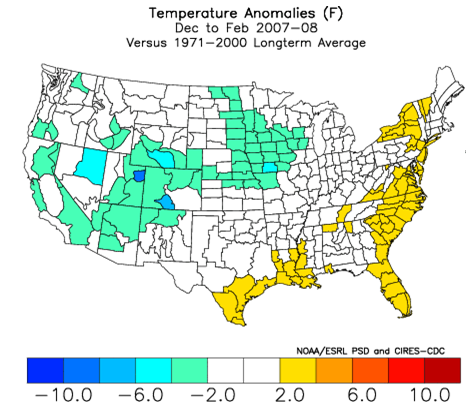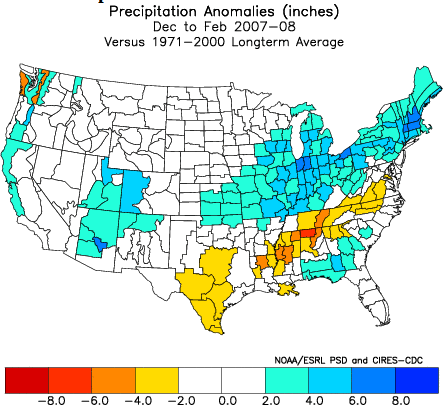 At the end of winter of 2007/08 the largely unexpected low natural gas storage condition made the upcoming summer forecast all the more critical. The fundamental basis of Dave's forecast issued May 2008 was that summer 2008 would average much more moderate than the excessive heat of the preceding summer 2007 in the major energy consuming areas of the Midwest and East.
Summer 2008 Temperature and Precipitation Forecasts Issued May 2008
Summer 2008 Mean Temperature and Precipitation Verification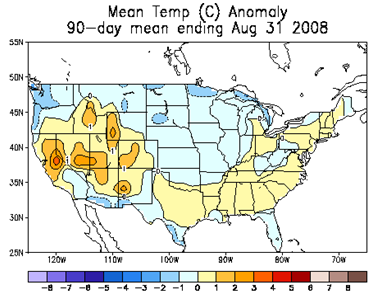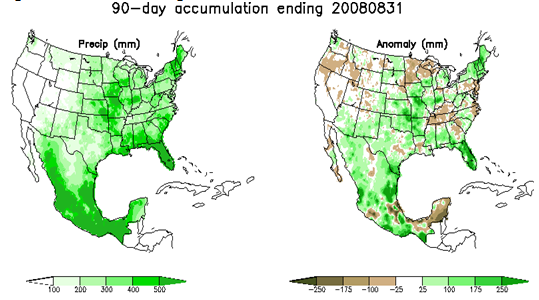 Among the listed primary forecast components issued in May was the following: "June is forecast to represent the greatest positive departures from average temperatures in the northern mid Atlantic and Northeast of the upcoming summer."
Dave's June Forecast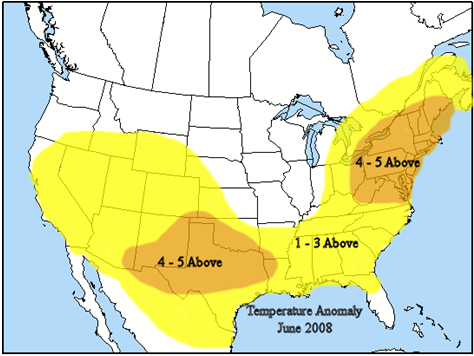 Observed June 2008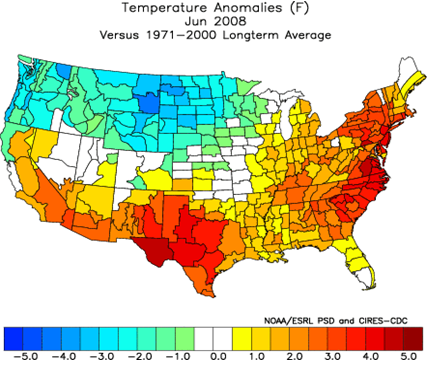 September 24 - Long Range Summary
Near seasonal high temperatures in the 60s across the northeastern quadrant of the U.S. last weekend, while summerlike 90s persist across the Southeast are a harbinger of a sharpening airmass contrast set to predominate the next 10-15 days. One more surge of unseasonably warm air across the Great Lakes and Northeast early this week is forecast to peak Wednesday near 10° above average (70s-low 80s), at the same time the coldest air since last spring dives into the northern Rockies and northern Plains cooling highs mainly into the 50s. However, greatly improved model consensus substantially limits eastward and southern expansion of cold air into the Midwest, South, and East as lobes of reinforcing cold Canadian air focus more directly into the north-central U.S. into next week leaving both the Southeast and Southwest in persistent above average warmth. Much of this stagnant and blocked pattern is related to colder model forecasts in the Northwest U.S. However all long range model forecasts limit duration of sharp temperature contrasts, signaling return of near coast to coast moderate above average warmth by the end of the 11-15 day period setting the stage for a mild October overall.
---
If your business or career depends on correctly predicting the weather, you can follow the pack or you can get ahead with MWA's proprietary models and expert forecasts.