2008 Forecast Verification Summary
Weather during Winter 2007 / 2008 and Summer 2008 have had largely unexpected Energy Sector implications to those not advised of Dave Melita's accurate long range forecasts.
Winter 2007/08 Temperature and Precipitation Forecasts Issued October 2007
Winter 2007 / 08 Mean Temperature and Precipitation Verification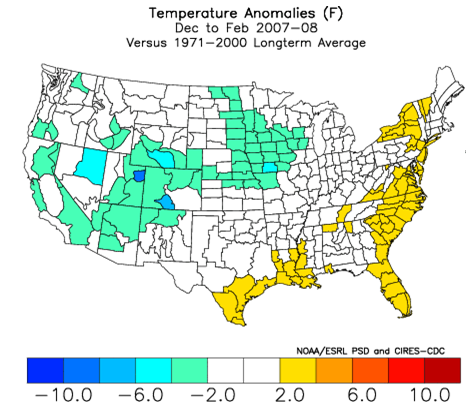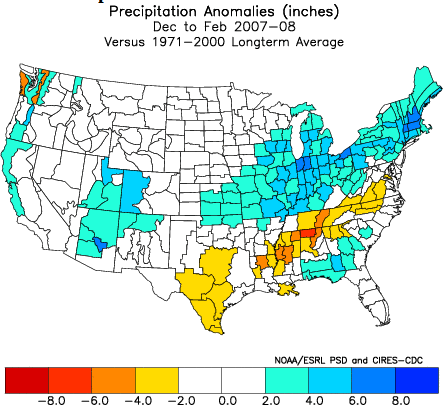 At the end of winter of 2007/08 the largely unexpected low natural gas storage condition made the upcoming summer forecast all the more critical. The fundamental basis of Dave's forecast issued May 2008 was that summer 2008 would average much more moderate than the excessive heat of the preceding summer 2007 in the major energy consuming areas of the Midwest and East.
Summer 2008 Temperature and Precipitation Forecasts Issued May 2008
Summer 2008 Mean Temperature and Precipitation Verification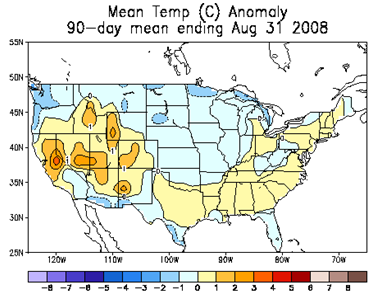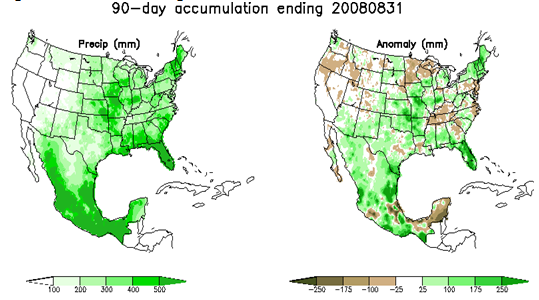 Among the listed primary forecast components issued in May was the following: "June is forecast to represent the greatest positive departures from average temperatures in the northern mid Atlantic and Northeast of the upcoming summer."
Dave's June Forecast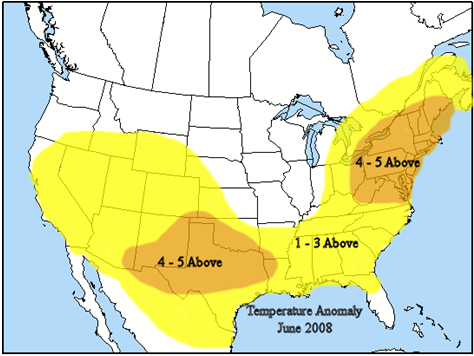 Observed June 2008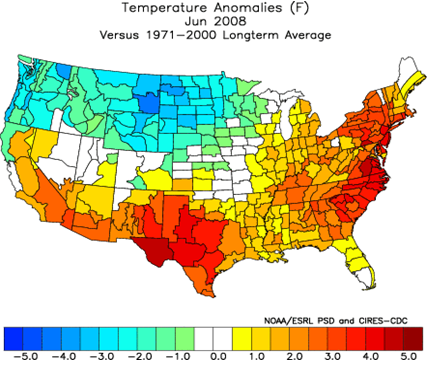 August 10 - Long Range Summary
This week begins with the warmest temperatures of August surging into the Northeast (upper 80s-low 90s) along with increasing humidity, which will likely prompt NWS to issue Heat Advisories in lower elevations of the region valid Monday and Tuesday. However, at the same time the next relatively cool (and wet) Canadian airmass of the early August series will be settling into the Plains and Midwest, albeit in a weaker form (near seasonal) than several degree below average temperatures observed between the Rockies and Appalachians all last week. This noticeably cooler air is certain to advance farther east to the East Coast by midweek; effectively ending extreme early week heat, while initiating wetter conditions across much of the Midwest and East. More importantly far greater model forecast consensus exists in prolonged duration of milder seasonal – slightly below average temperatures across the Midwest and East persisting into the final week of August along with wet conditions. A cooler end to summer and start to September across the Midwest and East is consistent with hotter Western forecasts, which recent model runs have latched onto as prolonged return of near 115° heat by the end of this workweek across  the Desert Southwest (including Phoenix) along with very dry conditions.
---
If your business or career depends on correctly predicting the weather, you can follow the pack or you can get ahead with MWA's proprietary models and expert forecasts.