2008 Forecast Verification Summary
Weather during Winter 2007 / 2008 and Summer 2008 have had largely unexpected Energy Sector implications to those not advised of Dave Melita's accurate long range forecasts.
Winter 2007/08 Temperature and Precipitation Forecasts Issued October 2007
Winter 2007 / 08 Mean Temperature and Precipitation Verification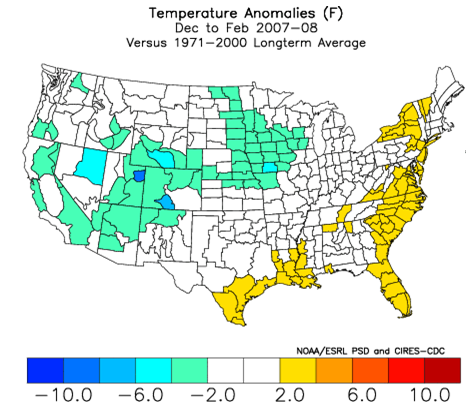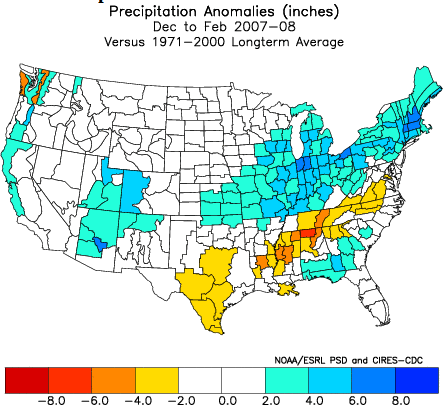 At the end of winter of 2007/08 the largely unexpected low natural gas storage condition made the upcoming summer forecast all the more critical. The fundamental basis of Dave's forecast issued May 2008 was that summer 2008 would average much more moderate than the excessive heat of the preceding summer 2007 in the major energy consuming areas of the Midwest and East.
Summer 2008 Temperature and Precipitation Forecasts Issued May 2008
Summer 2008 Mean Temperature and Precipitation Verification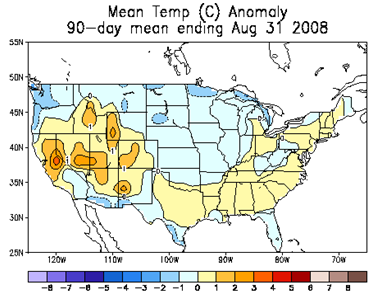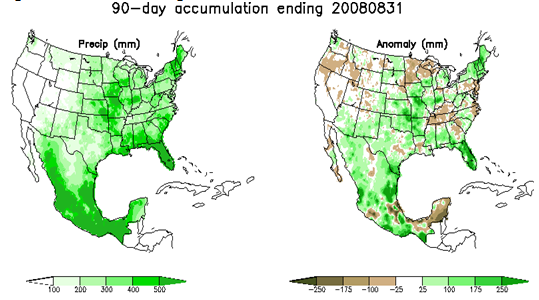 Among the listed primary forecast components issued in May was the following: "June is forecast to represent the greatest positive departures from average temperatures in the northern mid Atlantic and Northeast of the upcoming summer."
Dave's June Forecast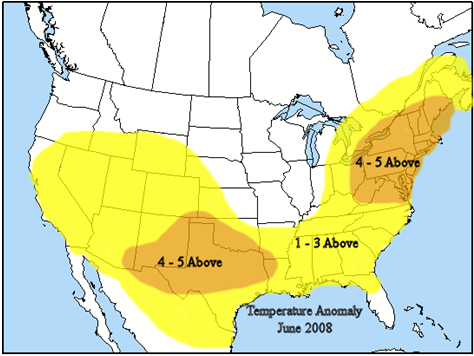 Observed June 2008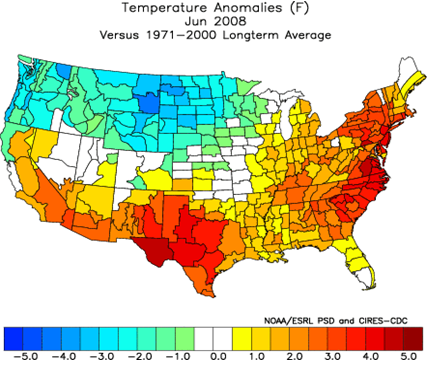 April 12 - Long Range Summary
Large scale pattern reversal and stagnation is directing reinforcing shots of unseasonably cold air (and late season snow) into the same regions of the north –central U.S. which have been warmest through the 1st half of spring. Model forecasts continue to increase magnitude of cold Canadian air focusing between the northern Rockies and Upper Midwest early this coming week to levels typical of early March; featuring high temperatures in the low-mid 30s, and overnight lows in the teens and 20s. Model forecasts generally agree the cold early week northern U.S. airmass (15°-20° below average) will settle more south than east while modifying (weakening), to focus into Texas and the Deep South at less than 10° below average intensity by the end of this workweek to predominate the 6-10 day period. Farther east predominance of overcast skies and intermittent rain signal less extreme cooling near seasonal temperatures starting early this week, which will still be very noticeable in the wake of past weekend early summer-like high temperatures in the mid-upper 70s observed across the Northeast. Moderately cold air is forecast to spread through the East in a more transient manner during the 11-15 day period as the current blocked pattern breaks down. Soon thereafter warm air expanding across the entire West during the next 10-days will quickly flood the Eastern U.S. by the end of April, to predominate May according to 30-day MWA ensemble forecasts.
---
If your business or career depends on correctly predicting the weather, you can follow the pack or you can get ahead with MWA's proprietary models and expert forecasts.