2008 Forecast Verification Summary
Weather during Winter 2007 / 2008 and Summer 2008 have had largely unexpected Energy Sector implications to those not advised of Dave Melita's accurate long range forecasts.
Winter 2007/08 Temperature and Precipitation Forecasts Issued October 2007
Winter 2007 / 08 Mean Temperature and Precipitation Verification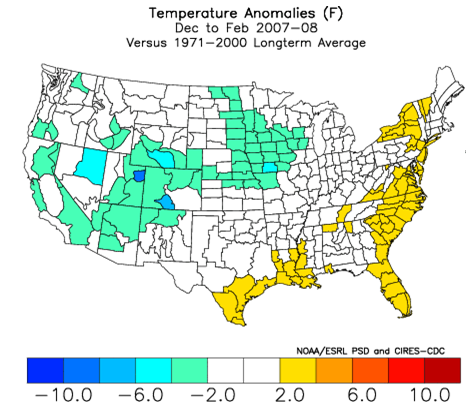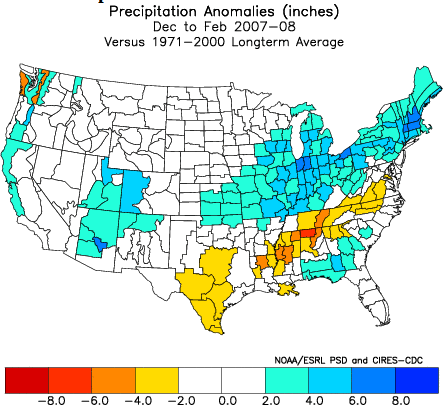 At the end of winter of 2007/08 the largely unexpected low natural gas storage condition made the upcoming summer forecast all the more critical. The fundamental basis of Dave's forecast issued May 2008 was that summer 2008 would average much more moderate than the excessive heat of the preceding summer 2007 in the major energy consuming areas of the Midwest and East.
Summer 2008 Temperature and Precipitation Forecasts Issued May 2008
Summer 2008 Mean Temperature and Precipitation Verification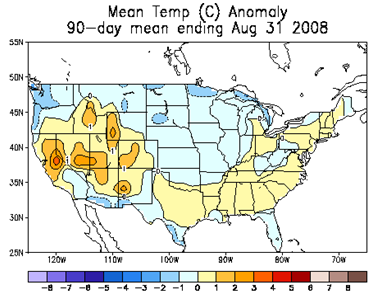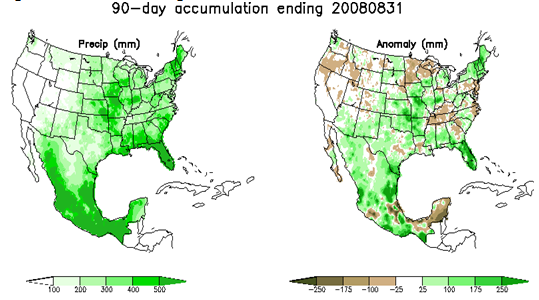 Among the listed primary forecast components issued in May was the following: "June is forecast to represent the greatest positive departures from average temperatures in the northern mid Atlantic and Northeast of the upcoming summer."
Dave's June Forecast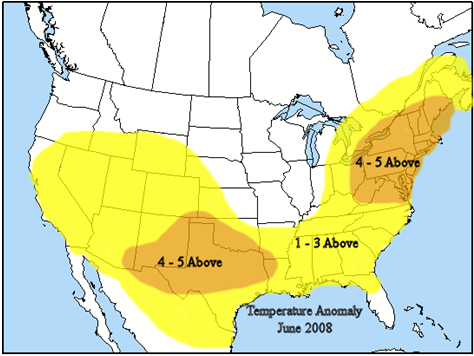 Observed June 2008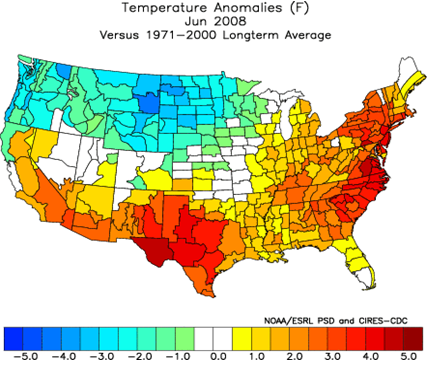 April 16 - Long Range Summary
This week begins winter-like with record setting cold temperatures deep into the Plains and Midwest (20°-30° below average), and near 15° below average temperatures from the Northeast into the Southeast. Latest model runs have shifted colder through day-10 to the point of forecasting 2-3 day periods of similar magnitude below average temperatures as several additional large Pacific storms track from coast to coast across the U.S. tapping into lingering cold air in Canada. However, all longer range models signal varying degree of warming across the Eastern U.S. during the 11-15 day period. This milder model shift is consistent with long standing 30-day MWA ensemble forecasts which effectively end connection to significant cold air by the end of April; setting the stage for a far milder start to May characterized by warm-biased temperatures across the western two-thirds of the country, and gradual moderation across the Northeast to near seasonal late spring warmth. 
---
If your business or career depends on correctly predicting the weather, you can follow the pack or you can get ahead with MWA's proprietary models and expert forecasts.